The olive groves of Azienda Agricola Savino are located in the countryside of Grumo Appula (Bari), on about 15 acres of rocky-calcareous soil, which constitutes the perfect condition to help the roots to drain the water, to avoid the soil compaction and to give the roots shelter during summer.
The groves are characterized by native cultivars such as Racioppa of Corato, better known as Coratina, and Ogliarola of Bari, also referred to as "Paesana" in dialect.
The crops are rigorously and consistently taken care of by qualified personnel, in order to get a fruity oil which derives from fleshy and perfectly ripe olives. The collection, in fact, occurs between December and January, when the drupe is colorful and the flesh soft and purple.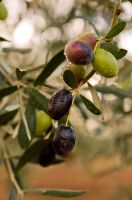 "Coratina" olive is a typical cultivar of the homonymous municipality, Corato, and it's widespread in the province of Bari and Foggia, and also in Molise.
The oval shape is slightly asymmetric, the fruit is big, and the weight is over 4 grams. When it's ripe it has a colorful color between green and purple.
Its oil is green with golden hues, it has a fragrant and fruity flavor, with an aromatic taste that signifies great quality. It normally resists cold and drought.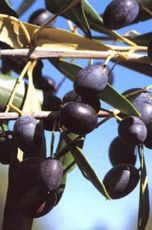 The Ogliarola of Bari, also called Paesana, presents a small to medium sized elliptical fruit with a sweet taste.
The specimens of this variety are often centuries old and very productive.
Their oil, with a very pleasant flavor and a golden-green color, is especially appreciated for its excellent aroma, and the almond aftertaste, which is not excessively pronounced. It's especially sensitive to cold and frost.